Allamuchy Corporate Center: Suite 214 – Office Space for Lease
1500 Route 517, Allamuchy Twp., NJ 07840
Available Square Feet: 1,750
Rent per Month: $1,570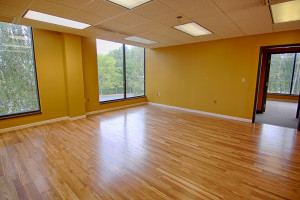 The Allamuchy Corporate Center, conveniently located near Hackettstown and Allamuchy Township on Route 517, has commercial office space available for lease.
With red brick façade, abundant windows, and an expansive lot, this striking and well maintained professional building in Allamuchy, NJ is an ideal choice for anyone interested in commercial space. Currently available within the Allamuchy Corporate Center, Suite 214 is 1,750 square feet and includes private offices, a kitchen area, attractive wood floors, and large sunlit windows overlooking the property.
The exterior grounds provide the perfect setting for outdoor corporate lunches and gatherings with a professionally landscaped lawn and an idyllic pond. Additionally, the Allamuchy Corporate Center office space has a large parking lot with nearly 80 parking spaces and multiple entryways into the building.
If you are looking for a great deal on commercial office space near Hackettstown and Allamuchy Township, come visit the Allamuchy Corporate Center located just off Exit 19 of Route 80.
Also available:
Suite 212 – Available Square Feet: 1,040 — Click for More Info
Suite 300 – Available Square Feet: 3,250 — Click for More Info
Call Charles "Chuck" Hendershot at Feel @Home Realty (908) 280-0115.
Share the NEWS