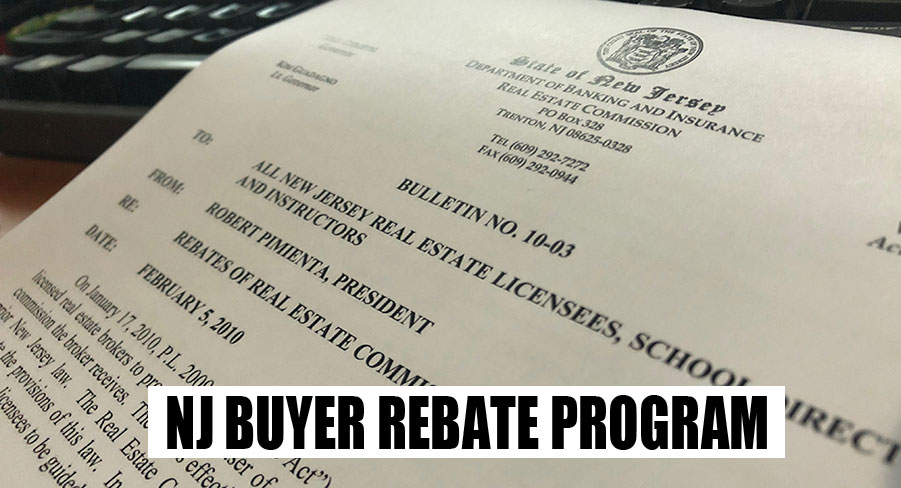 Feel @Home Realty doesn't stop at helping you find your dream home, negotiating a good price, guiding you through inspections and pre-closing tasks. We also participate in the New Jersey Buyer Rebate Program. The New Jersey Buyer Rebate Program is great news for homebuyers with the potential for thousands of dollars paid to the purchaser in the form of a credit at time of closing!
Watch Video Below:
Here's an example of how the works New Jersey Buyer Rebate would work for a home with a purchase price of $800,000 and 2.5% buyer's broker commission.
Example Purchase Price – $800,000
Buyer Broker Commission – 2.5% of the purchase price ($20,000)
Buyer Rebate – 50% of the Buyers Broker Commission ($10,000) payable to the purchaser at the time of closing by the attorney/settlement agent.
Wouldn't thousands of dollars back in your pocket at closing help with your new home purchase?
The New Jersey Buyer Rebate Program was signed into law in January 2010. Before the passage of this law, NJ Real Estate Brokers were only permitted to share a portion of their commission with other Real Estate Brokers. This is still a very common practice in the form of referral fees which one brokerage will pay to another for referring a client. With the new law, however, Licensed Real Estate Brokers are now permitted to provide their buyer clients with a rebate from their commission.
The NJ Real Estate Commission regulates who may provide and receive a rebate, as well as how the rebate may be paid. Buyers who wish to take advantage of the New Jersey Buyer Rebate Program are advised to consult a tax professional concerning the tax implications of receiving the rebate and their obligation to pay any applicable taxes for receipt of the rebate.
For more information, you can reach us via our "Contact Us" page or send us an Email at BuyerRebate@FeelAtHomeRealty.com